Dear JCSD Parents and Guardians, We hope this message finds you well. In the interest of ensuring the safety of students and school personnel, we have made the decision to dismiss all schools in the Juniata County School District (JCSD) at 1:00 PM on Friday, September 8, 2023. The reason for this early dismissal is due to concerns related to the bridge closure on Route 75 and the expected extensive traffic congestion through the traffic circle on William Penn Highway. We have been in close communication with the Juniata County Agricultural Society and other agencies regarding this matter, and both organizations agree that the potential for extended delays and safety risks necessitates this early dismissal. We understand that this may cause some inconvenience, and we apologize for any disruption to your daily schedules. However, please know that the safety of our students and staff is our top priority, and we are taking these precautions to ensure their well-being during this traffic-related challenge. We encourage you to plan accordingly for the early dismissal on Friday, September 8th. Bus schedules will be adjusted accordingly, and we appreciate your cooperation in helping to ensure a smooth dismissal process. If you have any questions or concerns, please do not hesitate to reach out to your child's school or the JCSD administration office. We will provide updates as needed, and we thank you for your understanding and support in prioritizing the safety of our school community. Sincerely, Christie Holderman Superintendent
We would like to welcome back our wonderful students tomorrow for the first day of the 2023-2024 school year! Whether you're taking your first steps into our halls or returning as familiar faces, know that this space is where you can live out your dreams and expand your curiosity. Our dedicated educators and staff are here to guide, inspire, and support you as you navigate the exciting journey ahead. Have a great year!

EJES kindergarten screenings are scheduled for Monday, June 5th and Tuesday, June 6th for students that are enrolled for the 2023-2024 school year. Please contact Wendy Hoover at 717-694-3961 if you have any questions regarding the screening or your scheduled time. If you haven't yet registered your child for kindergarten please call in with any questions and we would be happy to assist.
At East Juniata Elementary, we are committed to creating a positive school culture that fosters learning and growth for all our staff and students. To help us achieve this goal, we are conducting a survey on school climate, and we need your input. Follow this link to access the survey:
https://5il.co/1ts63
Attention 6th grade students/parents: It is that time of year again - fall sports sign ups! There will be sign up forms and packets available in the cafeteria this week for students to sign up, and you can also use the link below to access the forms. This packet includes the different sporting options, physical form information, and contact info for the Athletic Director. Please take time to review these things and have paperwork completed if you are interested in fall sports. We look forward to seeing our EJES tigers take the fields next year!
https://5il.co/1towd
Your child/children recently brought home a Be the Torch Heart Hero paper. This is like the Jump Rope for Heart that we have done in the past at EJES. You register by downloading the Kids Heart Challenge App(see above link) or go to heart.org/KHC Choose a daily challenge Collect donations and earn thank you gifts and online badges. Cash or check donations can be sent to the school. Our event is kicking off on 4/3/23 and will conclude on 4/21/23. EJES Due Date for Fundraiser Envelopes is April 28, 2023. Mrs. Walters, one of our 3rd grade teachers, is in charge of this this year at EJES. You can reach Mrs. Walters at her email,
jwalters@jcsdk12.org
with any questions. Here is a link for more information:
https://5il.co/1sd4e

Dismissal for all bus riders at EJES will be delayed this afternoon because of a late return from our 4th grade fieldtrip. If you have a child in 4th grade and they are on parent pickup, we kindly ask you to wait to join the parent pickup line until 3:30 allowing other parent pickup students to dismiss without delay. Thank you for your cooperation.

East Juniata Elementary School's internet and phone lines are currently down. If you need to reach out to the school please email Wendy Hoover at
whoover@jcsdk12.org
or Clint Mitchell at
cmitchell@jcsdk12.org
.

The Pennsylvania System of School Assessments (PSSA) Tests are administered state-wide during the months of April and May, 2023. EJES will be administering the PSSA English Language Arts (ELA) and Math tests to all students in grades 3 through 6. The PSSA science test will be administered to students in 4th grade only. The exams will be administered on the following dates: English Language Arts: April 25 th -27th, 2023 Math: May 1 st -2 nd, 2023 Science (4th grade only): May 3 rd -4th, 2023 It is very important that students be present and on time during testing days. Tests are administered in the mornings, so students should arrive no later than 8:30 AM on testing days. Only one test session will be administered per day and testing should conclude by 11 AM each day. If your student misses an exam day, their makeup exam will be administered no later than May 12 th , 2023. Please see this link for more details
https://5il.co/1ro9r

Do you have a child ready for kindergarten in the Juniata County School District for the upcoming 2023-24 school year? If so, join us! Families will have an opporunity to visit the elementary school, meet school district teachers and participate in fun, hands on kindergarten readiness activities to help prepare for school. March 30th, 6:00-7:30 PM at EJES.

EASTER EGG HUNT Organized by the Fayette Area Lions Club Where: Fayette Area Lions Den When: Saturday, April 8th at 10 AM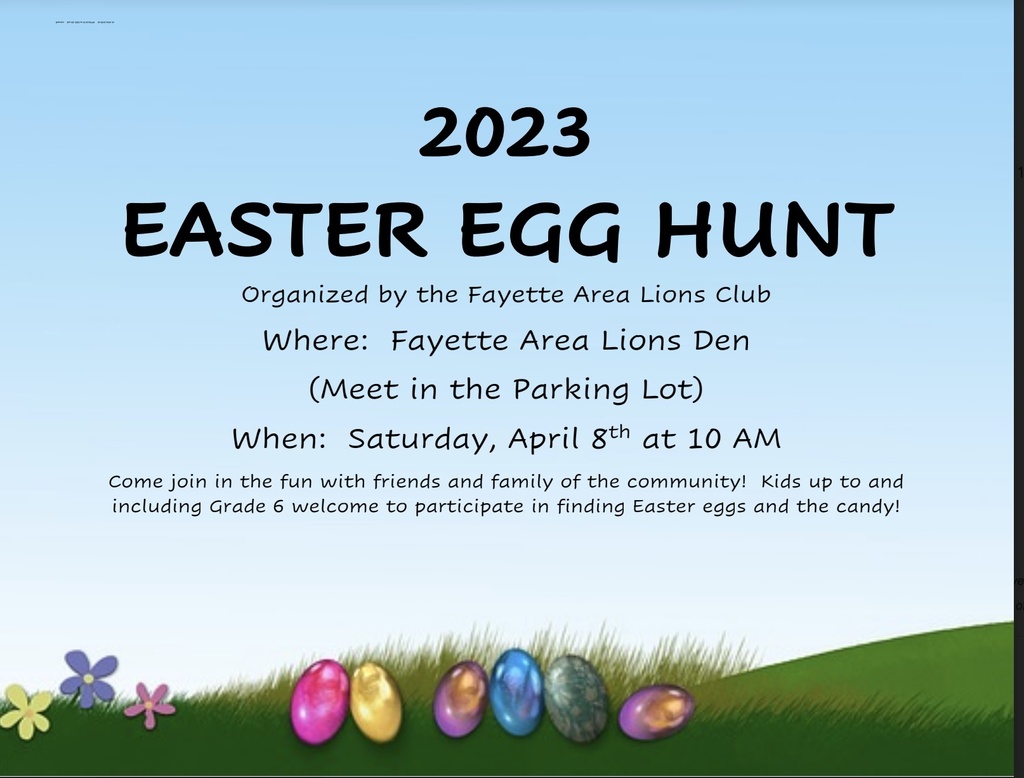 Reminder! Friday, March 24, 2023 is an Act 80 day. There is no school for students.

A reminder that EJES Krispy Kreme and Soft Pretzel orders should be picked up at Basom Park today between 3:30 and 6:00 PM.

Penn State is offering educational Science-U Summer Science Camps and ENVISION to students in local school districts. Registration for most of these camps opens on February 7, 2023, at noon. Here is a link for more information.
https://5il.co/1o6am

The winter concert for kindergarten through 4th grade is still on for tonight. K-2 is 6:00-6:30. Grades 3-4 will be held from 7:00-7:30. Shuttle services from Basom Park will be available.

Bus 30, 31, and possibly 55 are running behind this morning due to poor road conditions.

Good morning. Just a reminder to EJES families that the Little Caesar's Pizza and Gertrude Hawk Candy orders have arrived and should be picked up at Basom Park today, Wednesday December 7th, between 3:30 and 7:00 PM.

Bus 43 is running behind this morning because of icy roads.

Just a reminder that today, Thursday , November 17th EJES will be conducting a safety drill with our students.
EJES Families: There was no fire today but we did have a fan that wasn't working in the kiln room which caused smoke and a smell in the building. The fire department is still onsite to offer assistance. Dismissal will not change. We would like to give a special thanks to all those who responded to help us out today!